Serving Families Everywhere


"VIRTUALLY"

In Navigating IEP Meetings &
504 Planning Meetings
ANYWHERE IN THE UNITED STATES
A Message From
Our Founder

To the My Online IEP Advocate Community,
I am so glad that you found us… you are an important addition to our community & wholeheartedly welcomed.
I want you to know that myself and my team at My Online IEP Advocate will do whatever it takes to ensure that you have the knowledge and strategies you need to be an effective advocate for your child and any child.
If you have questions or concerns along your advocacy journey (YOU WILL), do not hesitate to seek our support, and please know that EVERY seasoned advocate has sought guidance, myself included.
I created this community to provide advocates all over the U.S.A. an advantage that I didn't have in my career. As a member, you can ask questions 24/7 and receive answers within a maximum of 48hrs. We have a team on standby just for you! Our goal is to provide unbiased information and from a variety of sources and perspectives.
It's important for you to know that you are fighting a worthwhile fight. Advocacy for our children is critical to their future and the future of our country. Seek support, rewatch courses, browse the Q and A in each chat room and get excited about our upcoming annual conference.
Most of all, know that you are welcomed here and that no question is a silly question.
I just can't wait to see YOU present at our next members only LIVE!
Thanks for Your Trust,
Krista Barth
Your Online IEP Advocate!
Founder of myonlineiepadvocate.com
Owner of myeducationalsolutions.com
Director of www.iepadvocacyforall.org
About Our Community
Krista Barth, owner of My Educational Solutions (established in 2013), a company that provides Section 504 and IEP Advocacy, has dreamt about creating My Online IEP Advocate since teaching in the public school system from 2008-2014. The support that parents and professional advocates receive from this program is manifold. Krista Barth, who has been in education for seventeen years and professional advocacy for nine years, shares the most important skills, strategies and knowledge through eight modules, as well as a series entitled, "Interviews with Experts", featuring IEP/504 Experts in the field from all over the nation. We bring in diverse professionals with diverse career backgrounds in order to present to our audience a range of perspectives and effective strategies.

How We Give to the Greater Advocacy Community
—
Since our origins, we have been a company that gives. Our founder, Krista Barth, worked as an advocate for homeless women from age nineteen to twenty while attending Northeastern University. Krista taught in some of Miami Dade's most challenged neighborhoods, including Overtown and Liberty City. Carrying these same sentiments into My Online IEP Advocate, we created a sister nonprofit organization called IEP Advocacy for All. It's our goal to provide as much parent advocacy as we can to low-income families and families facing homelessness/transition.

To learn more about how we give and information about IEP Advocacy for All...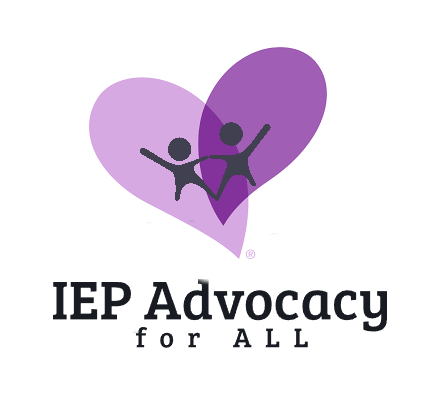 Every special needs child has the right to a meaningful education.

Help us to support families that are homeless/in transition.
Effective Methods That Work
We cut to the chase and teach you the strategies, methodology,
knowledge base, research and real life experiences that YOU need to know to
effectively advocate for YOUR child OR ANY child.
Experienced Advocates
Our critical courses solidify expert knowledge, and set the stage for all future learning in this field.
Community
Connect with other parents and advocates to share stories, hear questions and answers and support one another
Ready to join our community?
Start your life long journey with us and purchase your membership and get
full access to all of courses and start becoming an expert in IEPs and 504 Plans.